Common ground in Attention Deficit Hyperactivity Disorder (ADHD) and Borderline Personality Disorder (BPD)–review of recent findings
Borderline Personality Disorder and Emotion Dysregulation
2014
1:3
Received: 7 July 2013
Accepted: 17 October 2013
Published: 10 April 2014
Abstract
Considerable overlap in diagnostic criteria and shared psychopathologic symptoms in attention deficit hyperactivity disorder (ADHD) and borderline personality disorder (BPD) have stimulated research activities in this field. Longitudinal studies have shown that BPD is frequently diagnosed in adult patients who had been diagnosed with ADHD in childhood. The question of whether ADHD and BPD randomly co-occur as comorbidities, have similar origins or share common pathological mechanisms remains unresolved. Some authors suggest that ADHD contributes to the development of BPD via various mechanisms, and therefore consider it a risk factor for later BPD development.
In this article the evidence for the co-occurrence of these disorders will be reviewed as well as studies on their common genetic and environmental influences. Temperamental and developmental issues will be reviewed, and shared features such as impulsivity and emotion dysregulation discussed. From a therapeutic perspective, few studies have investigated psychotherapeutic treatment of the comorbid condition, though the issue is highly important to the management of patients suffering from both disorders. Some thought is given to how therapeutic methods and approaches can be modified to benefit patients, and to their possible succession.
Keywords
ADHD
BPD
Impulsivity
Emotion regulation
Introduction
In recent years, shared symptoms and considerable overlap in clinical presentation between attention deficit hyperactivity disorder (ADHD) and borderline personality disorder (BPD) have stimulated research activities in this field. Since the 1980s numerous studies have furnished evidence on the persistence of ADHD symptoms in adulthood [1–6]. ADHD symptoms consequently have been increasingly recognised in BPD patients. It has become common knowledge that both disorders frequently occur as life-long comorbidities [7] and often result in serious health related consequences with regards to psychopathology, quality of life and psychosocial functioning.
On the one hand, since the publication of the Wender Utah Criteria [8] emotion dysregulation - the core symptom of BPD–has been widely recognised as an important symptom in adult ADHD. The current discussion on emotion dysregulation as an important feature of ADHD in adults [9–11] further spotlights the common ground between the disorders. On the other hand, as well as the evident absence of inattentional symptoms in BPD–with the exception of dissociative states–differences between ADHD and BPD in neuropsychological organisation and functioning have increasingly become evident [12, 13].
Discussion is continuing on whether ADHD and BPD occasionally co-occur as comorbidities and have common origins, possibly with ADHD traits being the precursor of later BPD, or share common pathological mechanisms. Against this background there has been discussion about which therapeutic approach would be the most beneficial, even if research activities in this field are still scarce.
This article gives an overview of current knowledge about the close links, subtle distinctions and significant differences between the two disorders. It deals with different aspects of the association between ADHD and BPD, taking into account possible common origins in neurobiology and inborn temperament as well as common mechanisms concerning neuropsychology and emotion regulation. As we consider this a very important issue to improve and broaden knowledge of therapeutic options for patients with both ADHD and BPD, this basic information is provided as a starting point for clinicians dealing with patients suffering from both conditions. The article will also give some thought to therapeutic aspects and formulate some tentative recommendations.
Diagnostic criteria: overlap in clinical symptom presentation
BPD is classified as a personality disorder (PD). The DSM-V defines the main features of BPD as a "pattern of instability in interpersonal relationships, self-image, and affects, and marked impulsivity" [
14
]. ADHD according to the DSM-V is a neurodevelopmental disorder characterized by "a persistent pattern of inattention and/or hyperactivity-impulsivity that interferes with functioning or development" [
14
]. Thus, at first glance the overlap in diagnostic criteria is primarily in the domain of impulsivity. Pursuant the ICD-classification [
15
], impulsive behaviors are characteristic for both subtypes of the so-called emotionally instable personality disorder (see the list of characteristics of the impulsive subtype of emotionally instable personality disorder according to the ICD):
Marked tendency to act unexpectedly and without consideration of the consequences,

To engage in quarrelsome behavior and to have conflicts with others, especially when impulsive acts are thwarted or criticized,

Liability to outbursts of anger or violence, with inability to control the resulting behavioral explosions,

Difficulty in maintaining any course of action that offers no immediate reward and

Unstable and capricious (impulsive, whimsical) mood
The criteria of the impulsivity domain in ADHD according to the DSM-V are quite similar (see the criteria of the impulsivity domain of ADHD according to DSM-V):
Difficulty waiting his or her term (e. g. while waiting in a line)

Blurting out answers before a question has been completed or blurting out inappropriate comments without regard to consequences and

Interrupting or intruding on others
Because of this apparent overlap the phenomenological differentiation between "borderline-impulsivity" and "ADHD-impulsivity" is merely possible from a clinical viewpoint. Both patient groups often seem to act without taking into consideration the consequences of their behavior. According to the ICD definition of the impulsive subtype of emotionally instable PD, the cited impulsivity criteria also comprise emotion control/regulation difficulties (outbursts of anger). The aspect of emotion dysregulation was added to the definition of adult ADHD when the Wender-Utah criteria were published. Wender et al. proposed a set of characteristics (see the list of additional Wender Utah criteria of adult ADHD):
Affective lability or mood shifts

Hot temper outbursts or short-lived explosive outbursts or constant irritability and

Emotional over reactivity in the sense of over reactivity to routine life stress
to specify current ADHD symptoms in adults which are not only based on the behavioral criteria outlined in DSM-V, but also comprise associated features and subjective symptoms [16].
Thus, it is evident that there is a descriptive overlap with the affective instability domain in BPD. Wender's proposal has been tested, and evidence has emerged to affirm that in adult ADHD there is an elevated risk for deficient emotional self-regulation (DESR) [9, 17–19]. A recent family study reports the finding that ADHD with DESR might either represent a distinct familial subtype of ADHD or an entirely separate familial condition [11].
The considerable overlap between symptoms of ADHD and BPD in the core domains of impulsivity and emotional dysregulation led to the idea that both disorders might be the result of different developmental pathways based on common underlying pathologic mechanisms and differing in symptom severity [20].
Psychopathological presentation was therefore investigated in adult patients with ADHD compared to BPD patients and control subjects with a focus on Borderline symptomatology [21]. Severity of borderline symptoms was assessed with the borderline symptom list (BSL). Adult ADHD patients showed significantly higher BSL total scores compared to healthy controls but lower scores than BPD patients. The largest differences between ADHD and BPD patients were found with respect to self-destruction and affect dysregulation, whereas the smallest difference was found with respect to loneliness. Thus, at a descriptive level symptoms of BPD are common to ADHD patients, but are less severe.
Given the similarities in symptom presentation, one might think that ADHD and BPD are different modes of the same disorder. However, states of inner tension [
22
] which are often regulated through self-injurious behavior and repeated suicidal ideation, as well as temporary stress-related paranoid ideation or dissociative symptoms, are typical of BPD but not of ADHD. Inadequate efforts to prevent abandonment in intense but instable relationships, marked instability of identity and extreme alterations in thinking (devaluation vs. idealization) as well as feelings of emptiness are features of BPD [
14
]. These severe symptoms rarely occur in ADHD patients whereas inattention and hyperactivity, the core symptoms of ADHD, are not considered typical of BPD patients suggesting marked differences between the disorders Figure 
1
.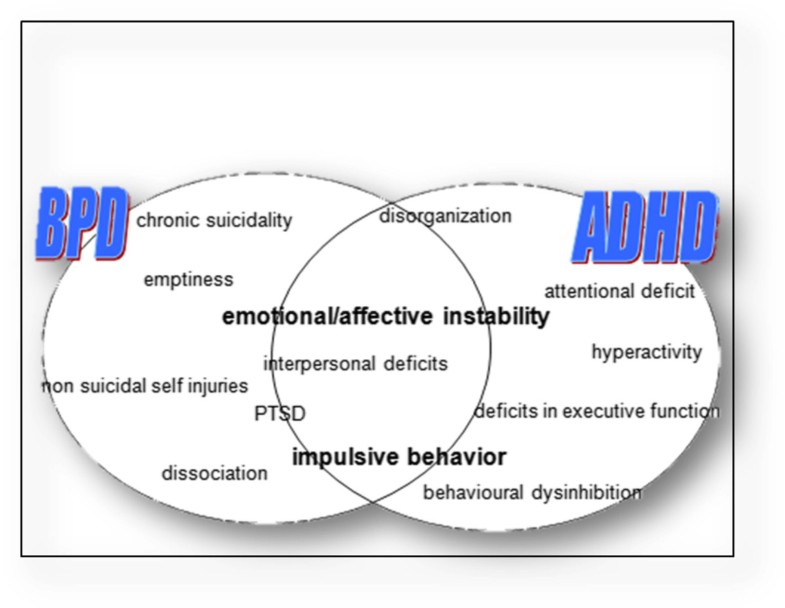 Method
We searched relevant registers for studies on ADHD. Furthermore, we screened the reference lists of relevant articles manually. Included were papers in English, German and French. Studies of any design focusing on ADHD and BPD were screened and categorized. We used the categories research on comorbidity, etiopathology, temperament and development, neuropsychology and treatment to summarize the findings.
A search for studies dealing with ADHD and BPD was conducted for the following bibliographic databases: Pubmed, Embase, Medline, PsychInfo, Central (The Cochrane Central Register of Controlled Trials). The following terms were used: (ADHD OR (attention deficit) OR (attention-deficit) OR hyperactivity*) AND (BPD OR (borderline personality disorder) OR borderline*). The search included all fields in Pubmed, Embase, Medline and PsychInfo databases and abstract, title and keywords in the Central bibliography (number of citations: Pubmed 444, Embase (ScienceDirekt): 11660, Medline (ME95) see Pubmed, Psychinfo 418, Central (The Cochrane Central Register of Controlled Trials) 19, NCBI webside 420).
Conclusions
ADHD and BPD share some clinical features, particularly impulsivity and emotional instability. These disorders often co-occur. Patients with both diagnoses have more pronounced difficulties which are intertwined and often difficult to treat. In particular, impulsivity seems to be a severely impairing characteristic of patients suffering from both disorders. In BPD, impulsivity is primarily driven by affective and interpersonally sensitive aspects. In ADHD, deficits in attentional and cognitive processing account for behavior inhibition problems, referred to as impulsivity. Systematic treatment programs for patients with both ADHD and BPD are lacking, and there is a need for more research in this area. To stimulate research in the field of co-morbid ADHD and BPD we consider it important to further address the questions of gene-environment interactions, vulnerability to emotional neglect and abuse, and to broaden knowledge about temperament and the risk for traumatic experiences. Future research on impulsivity should include direct comparisons between ADHD, BPD and comorbid ADHD + BPD groups. The field of emotion regulation research in ADHD needs to be expanded to better understand interrelations between executive function deficits as well as (under-)stimulation and emotion regulation. The family interactions between parents and children with ADHD need to be considered from an emotion regulation perspective. Treatment options for comorbid patients suffering from ADHD and BPD should be developed and evaluated. Current knowledge emphasizes that therapeutic approaches need to take both disorders into consideration. Moreover, therapeutic planning needs to carefully consider symptom domains and selection of therapeutic steps and their succession.
Authors' Affiliations
(1)
Department of Psychiatry & Psychotherapy, Clinic of Mental illnesses, University Medical Centre, Freiburg, Germany
Copyright
© Matthies and Philipsen; licensee BioMed Central Ltd. 2014
This article is published under license to BioMed Central Ltd. This is an Open Access article distributed under the terms of the Creative Commons Attribution License (http://creativecommons.org/licenses/by/2.0), which permits unrestricted use, distribution, and reproduction in any medium, provided the original work is properly credited.